1980s-1990s:
Back in the 80s our stud was initially started with birds from Harold Trethaway, Joe Lastella, and Don Langell.
Harold Trethaway's birds were traced back to Alf Ormerod stock from England, while Don Langell's stock were strong in Ormerod and Jack Moffat (Scotland) backgrounds.
Don was the premier breeder in the US dominating major shows of the East Coast and winning several All Americans.
During the years we advanced through the ranks to Champion Division I brought in additional Langell birds every year or two until the bloodline was probably 90%+ Langell... and we were becoming competitive in the Midwest, winning an occasional show and consistently on the top bench.
In 1987 we imported a couple of pair of Greygreens from Clare and Terry Pilkington in England, whose birds had Ormerod consistently in the background..
One Pilkington pair bred very well producing over 20 chicks the first year.
The Pilkington birds were kept as a separate family for two years, then crossed into our Langell line.
The upgrade in overall quality was immediate, and we soon had Greys and Greygreens that won many awards... Including a young Greygreen that placed 2nd BIS at an All American in Indianapolis with 1056 entries.. and others that won over 30 Best-In-Shows.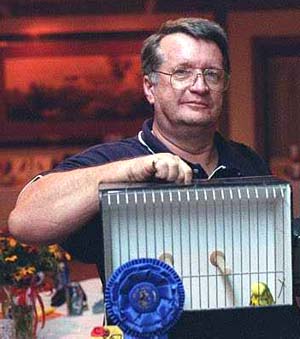 2009:
Following a break from the hobby for several years I decided to return in 2009.
After attending both the All American and BAA Grand National to check out the birds my buddy Robert Marshall helped me out with some start-up stock. I also purchased a few pairs from Gary & Kathy Hicken, Fred DiBernardo, Stu Sacks and Henry Timmes.
2010:
In 2010. my first breeding season back, I paired the birds based on the original breeder.
In 2010 only the very best young cocks were retained along with all hens of reasonable size that had no obvious faults. (4 cocks & 18 hens).
2011:
In 2011 the Hicken 5X birds were kept pure while the Marshall-DiBernardo and Timmes-Sacks lines were combined as the had similar backgrounds.
From the 186 chicks we retained the 6 best cocks and 30 hens for the breeding team and disposed of the rest along with all the initial birds these youngsters had surpassed in quality.
2012:
Only six of my original "start-up birds remain.
The 5X family produced the best youngsters last year so will be kept pure.
Lutolf blood has been introduced via a couple of young birds Gary Hicken bred from imports he acquired when he bought Joe Lastella's stud. They are working with Timmes family mates.
Fred DiBernardo had two untried Huxley & Marchant hens he imported last year that he was perpared to part with. They have been paired to Marshall-DiBernardo cocks.
I visited England in March, visited several breeders, and imported a few pair from Andy Hind in Moulton. Andy's birds are an interesting blend of Mannes, Huxley & Marchant, and Daniel Lutolf's bloodlines. I was very impressed with his birds, especially the Cinnamons (Lutolf) and Spangles (Mannes).
In November I returned to England again for the B.S. Club Show, and arranged another small shipment including a few more from Andy Hind, recessive pieds from Ken Bennett in Mold, and several pair of lutinos from Irv Saunders, Moreton.
2013:
The "original start-up birds" have all moved on. They produced better quality youngsters that will replace them on the breeding and show teams.
The 5X (Hicken) birds are now two families... Cinnamons, mainly GreyGreen, and a Normal family that is primarily Greys and GreyGreens. These families are producing both quality and numbers. This is especially pleasing since Gary & Kathy Hicken sold their stud before moving to Kenya for a three year mission with their church... Now pure 5X blood outcrosses may be difficult to obtain in future.
Daniel Lutolf kindly included three youngsters for me in a shipment to USA. These will be used with the Andy Hind imports and the Hicken/Lastella birds with Lutolf in their pedigrees.
After a slow start the Recessive Pieds, Lutinos and Crests are now producing. With luck after another season these varieties will have the numbers established to cross into the better quality normals.
2014:
Not the most productive season for numbers, probably because of limited time spent with the birds because of work commitments, but I am very pleased with the quality.
The 5X (Hicken) families continue to produce quality youngsters. A few are better than the birds that have won shows in past years.
The Andy Hind (UK) families have produced some outstanding Spangles and Cinnamons...
During 2014 I crossed a few birds from Hicken families to Hind line. Very impressed with the youngsters... A few are possibly the best I have bred since returning to the hobby 5 years ago.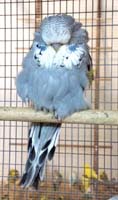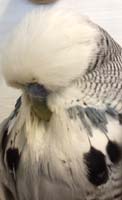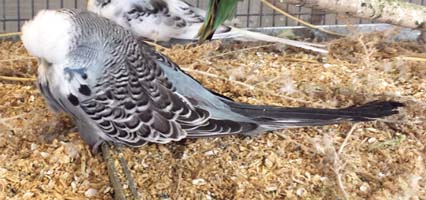 2014 Young Grey Cock.. as a youngster.. moulted out.. and resting in the stock cage after winning Best In Show in Kansas City.
I particularly like a Grey Normal Cock, A Cinnamon GreyGreen Hen and a Dark Green Cock from these matings. The have the overall size of my 5X line but have certainly improved directional feather we see in top UK and European birds.
These three youngsters took the top awards at the Kansas City Show in October beating my birds that won last year. ... finishing with 9 on the top bench (best 10 birds in show) and 6 of these were current year birds.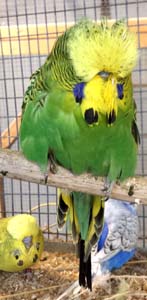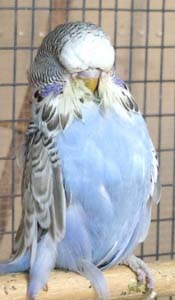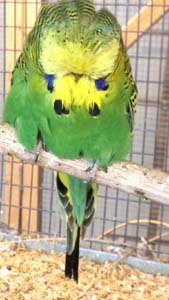 Three Siblings
2015 - 2016
No outcrosses now for three years. The few imports blended with the Hicken blood nicely, adding a little directional feathering.
Fertility and overall quality of youngsters was pleasing but numbers were limited due to personal and travel commitments.
Now looking forward to bringing in a few outcrosses from breeders I visited in England and Europe to add a little spark and help take the birds to the next level.
2019 - I moved from Kansas City to Guadalajara, Mexico. Since imports from USA are not allowed it is time to start all over again.